Hot Spot Reviews
There is nothing like getting up in the morning with a stiff, sore back and feeling that warm, pulsing water of the hot tub! In the length of time I drink a cup of coffee, I am feeling ready to face the day. Honestly, I've been doing this for about … Read More
We keep it on the deck off our bedroom. It is cozy but perfect for our needs. We use it 4-5 times a week after hard exercise. Very soothing.
At the end of a long day, there isn't a better way to relax than in my spa! Best nights sleep ever after a long soak in my spa!
I have had this hot tub for over a year now and have been very satisfied with in all areas. Very easy to maintain water control with routine maintenance and service.. This is my third hot tub and I wish I had bought this first it is that good which … Read More
The look of the spa is luxurious. The finishes and options are modern. My neighbors are jealous of my spa! Aside from relaxation, I purchased the spa due to chronic neck and back pain.
EXPLORE HOT SPOT®
POWERFUL JETS
Hot Spot® Spas are designed to become a part of your everyday life. These spas offer jets that help you feel your best, in a package that fits your budget and your lifestyle.
THE PERFECT MASSAGE
Hot Spot Spas feature jets that relieve tension in your neck, shoulders, back, calves and feet.
Directional Hydromassage jets provide targeted relief to problem areas with easy-to-turn nozzles
Rotary Hydromassage jets create a rotating stream of water for a varies massage sensation
Directional Precision® jets are targeted to relieve tension in focused areas
ENERGY EFFICIENCY
All Hot Spring spas offer Energy Smart features, which helps your spa deliver the best value over time.
LOCK-IN-HEAT
Hot Spot spas feature innovative FiberCor insulation, which completely fills the spa cabinet to provide 4 times denser insulation than standard 1/2 lb. foam. Hot Spot spas also offer the following Energy Smart features:
Custom-designed spa covers offer a tight seal to lock in heat
Our No-Fault heater that maximizes heat transfer and is covered by an unconditional 2-year warranty
SmartJet system lets you direct power only to the jet groups you want to use
Dimmer-controlled LED lights that use less energy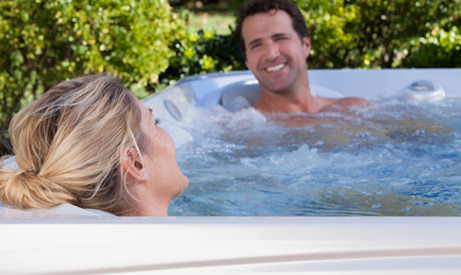 WE GIVE YOU CHOICES FOR EASY WATER CARE MAINTENANCE
FROG® @ease® with SmartChlor®
Every Hot Spot spa comes ready with this easy in-line system. Insert prefilled cartridges to automatically release SmartChlor chlorine and minerals for easy care and softer-feeling water.

FreshWater® III CD-Ozone
Optional on Hot Spot, this system continuously cleans with minimal need for chlorine. Tiny ozone bubbles neutralize contaminants on contact. Combine with FreshWater Ag+® silver ion purifier to inhibit bacteria growth and add a dose of FreshWater MPS chlorine-free oxidizer after each use.
FreshWater Chlorine
For those who prefer a more traditional approach, we offer a complete line of FreshWater bottled products for a complete maintenance program designed especially for use in your Hot Spot spa.
ABSOLUTE BEST HOT TUB OWNERSHIP EXPERIENCE
No matter which model you select, you can count on superior quality, comprehensive warranties and outstanding customer care from our experienced dealers.
COMMITTED TO OUR CUSTOMERS
Our dedication to high-quality construction and unparalleled customer care means you can enjoy your Hot Spring spa for years to come. You can count on support from our network of experienced and professional retailers and our straightforward warranties to ensure your spa is always running at its best. We don't expect you to take our word for it though. We are proud to share the real experiences of our customer's right here on our website.
Read reviews from Hot Spring owners and learn about the Absolute Best Hot Tub Ownership Experience.
SIMPLE AND STUNNING
Hot Spot Spas feature attractive shell and cabinet designs that will integrate beautifully into your backyard. Colorful lighting and soothing waterfalls (on select Hot Spot models) add to the fun.
With quality craftsmanship that only comes from Hot Spring Spas, Hot Spot model owners will enjoy the benefits of spa ownership for years to come. All Hot Spot Spas feature the following:
Stylishly sculpted, comfortable shells
Beautiful, yet durable, Everwood siding in three colors
Elegant shell colors ranging from pearlescent to granite-like
The Tempo, Rhythm, and Relay models also feature a relaxing waterfall, and 10 points of multi-color lighting.